I really try to offload the entire "to do" part of my brain into GTD, so I'm very inclusive and jot down things that I'd like to do even it there's a good change that I will never get to many of them. Consequently, I have a lot of things set as Someday in GTDNext. When scanning through the system to decide what I should work on next, I've started to find that the grey items we're sort of distracting; I don't need to see these things multiple times per day. The solution I stumbled on is the Filter Active Items button: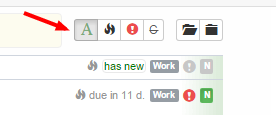 Hiding inactive items is consistent with the spirit of GTD; Someday items are something that you might want to look at during your periodic review, but not more often than that. So now I leave leave this filter selected by default.
One thing that I don't like about this approach is that it also hides Waiting items. For me at least, Waiting items are things I need to be thinking about now, just as much as Active items. When you delegate tasks, you can't be passive about things you are waiting on. So, ideally I'd prefer filters that would allowing me to see Active and Waiting, while hiding Someday.